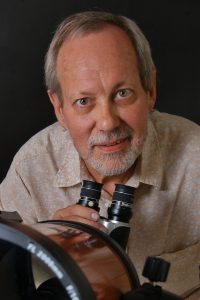 The City of Bristol Tennessee Department of Parks and Recreation and the Friends of Steele Creek Nature Center and Park welcome a local photographer with decades of stories and insight to share in a talk titled "A Photojournalist's View of Nature, the Sun, Moon, and Stars" on Friday Oct. 7 at the Steele Creek Park Lodge at 7:30 pm.
Marq Marquette, an award winning astrophotographer, has seen the gamut of the camera world from film to digital in his 50 years as a published photojournalist.  From the newsroom of the Associated Press to manager of a Ritz Camera store, his experience in photography runs from darkroom deadlines to lighting equipment. He worked in a studio in New York City, and owned a photo business in Bristol, MarQ Camera Art Studio, which he continues online.  His photography has been published in magazines, encyclopedias and books, and he has been featured in many art gallery shows.  Marquette is also a frequent contributor with atmospheric, planetary and lunar photos at the website
spaceweather.com
. He will share how to take photos of sundogs, Moon halos, meteors and eclipses of the Moon and Sun.
Since 1996, Marquette has been a contributor to The Loafer weekly magazine, and his popular "Stargazer" astronomy column is in its 20
th
year.  His light-hearted, yet informative talk will take you behind the scenes and into the thinking of how to capture photos like the pros, including starry landscapes.  
Marquette, 62, has spent more than 50 years passionate about two things: photography and astronomy. As a teenager he built his own telescope and then rigged it to photograph the Moon with a camera his father brought back from the Korean War. With that camera at a 1968 Detroit Tigers baseball game, he captured an iconic image of a boy looking over the shoulder of a hot dog vendor and man reaching for his wallet. The fourteen-year-old showed the home darkroom print to his paper route boss, who showed it to the newspaper editor, and a career in photojournalism was launched.
Marquette's early career was with newspapers as a reporter with a camera before the Associated Press in Columbus, Ohio snatched him away as a photographer. He has also worked as a photojournalist for Newsweek, Sport Illustrated and the Kettering Foundation.
Marquette has been in the Tri-Cities for more than 30 years, and has contributed his photography skills to the early rebirth of Downtown Bristol at the Paramount Theatre, Theatre Bristol, Believe in Bristol, Rhythm & Roots Reunion, Viking Hall and more.
Marquette is a popular speaker at amateur astronomy clubs and regional conferences, offering not just serious talks on astrophotography and observing but also a humorous astronomical parody called "Starry Nite Live!"  He is
the co-founder, in 2007, of the Twin City Photo Club, a monthly fellowship of photographers. He has also taught for 15 years an adult class on photography for Virginia Parks & Recreation Department.
Marq's program kicks off Steele Creek Park's 19
th
Annual Wildlife Weekend event.  Free programs and activities will continue all day Saturday 08 October beginning at 8:30 am.