The walls of the Kids Zone play area now display a dramatic wetlands mural along with other eye-catching and educational graphics. Some two dozen magnetic cutout animals and plants are available for kids of all ages to place in the scene on the wall. Accompanying information helps visitors identify the various specimens. In addition to being available most of the time for kids to enjoy on their own, the exhibit offers the Nature Center staff and volunteers the opportunity to present programs on wetland ecosystems to small groups of children.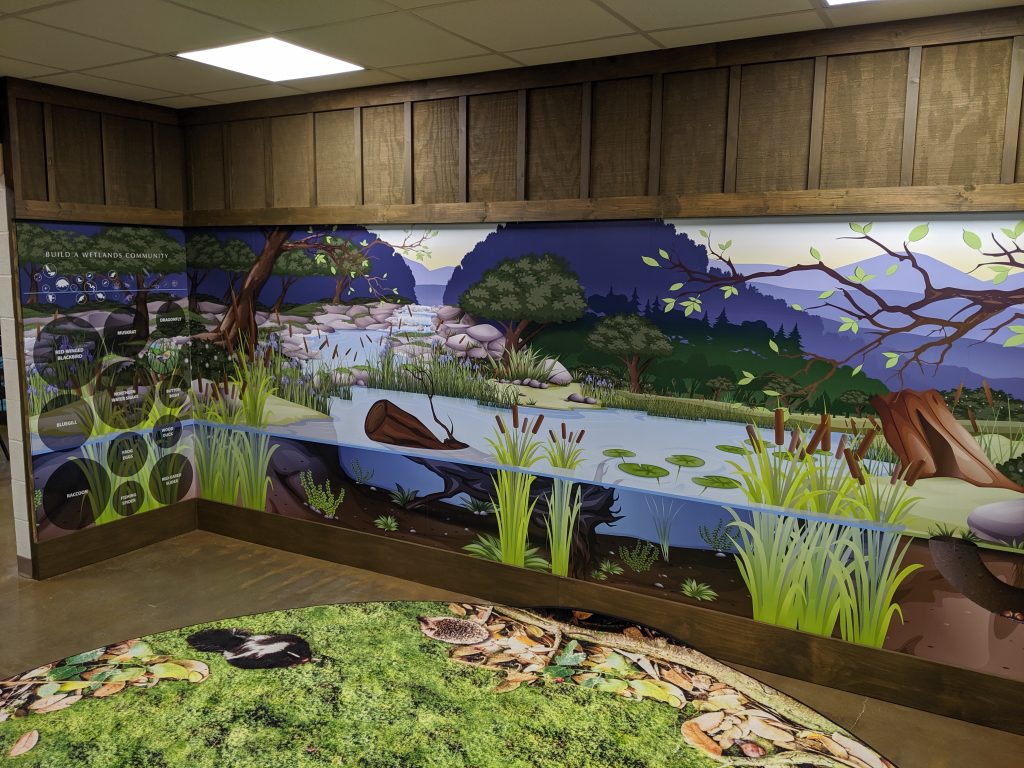 Also, downstairs in the Nature Center, you may feel even more than before, that you are travelling underground. New graphics covering most of the walls at the bottom of the stairs depict the geologic formations underlying the Park, mirroring the geology wall and cave exhibits. Watch closely as you return to that area of the Nature Center in the future; we understand a mountain stream may soon appear, flowing down the stairway itself!
Our next planned exhibit will focus on native wildflowers, trees, and other plants of our region. This display will be located on the upper level at the top of the stairway, extending down the hallway toward the Birder's Forest diorama, and along the wall near the elevator. Thanks to a generous donation from John and Peggy Cowan, we now have the funding to proceed with installation of the exhibit. We currently are working closely with Jeremy Stout (Nature Center Manager/Naturalist) and Ed Hackley (our outstanding exhibit designer) to determine both the content and the design of the exhibit.
One exciting feature of this exhibit is that is that it will invite visitors to connect directly with what's outside. Windows overlooking a renewed and greatly expanded native plants garden will be incorporated into the display, so that as visitors interact with the exhibit itself, they can see the gardens right outside. Then, after learning about many of our native plants, they can head outside to see and learn more about them first-hand.
To create and maintain this native plants garden we'll need a dedicated group of volunteer gardeners. If you or someone you know enjoys working outside, whether or not you know much about gardening, let us know and we'll put you to work as one of our volunteers! Just send an e-mail to us at mail@friendsofsteelecreek.org with "Gardens" in the subject line. If you're a Master Gardener, our project is one of the approved projects of the Northeast Tennessee Master Gardeners Association, so you can get credit for your volunteer hours working with us.