Family Fitness Trail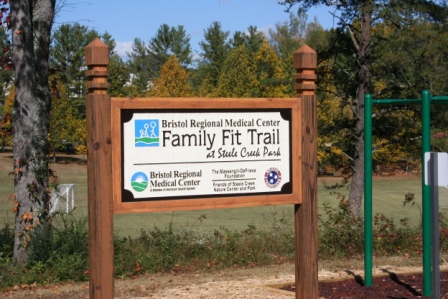 The one-mile family fitness trail located within the developed area of the park was the result of the vision, planning, and fundraising efforts of Friends of Steele Creek Nature Center and Park.  The trail offers three fitness stations including a total of 10 pieces of equipment for youth and adults.  Funding was provided primarily by Wellmont – Bristol Regional Medical Center, with additional funding from the Massengill-Defriece Foundation.  Bristol Tennessee Leisure Services staff constructed the trail and installed the equipment.  The grand opening of the family fitness trail was held in conjunction with Wildlife Weekend on October 20, 2007.

Information Kiosks
In 2005 we facilitated the construction of information kiosks at two of the entrances to the park.  One is located along Broad Street at the Mill Creek parking lot, where the city greenway extension enters the park.  The other is located at Rooster Front Park.  Both are used for posting park and greenway information, maps, and other important information.  The project was made possible, in part, by a $1000 grant from the Tennessee Parks and Greenways Foundation.  Funds raised by our Friends organization were also used to purchase materials.  The kiosks were constructed primarily by City employees, with assistance from Friends volunteers.  Special thanks go to Phil Young for his volunteer assistance with the project!