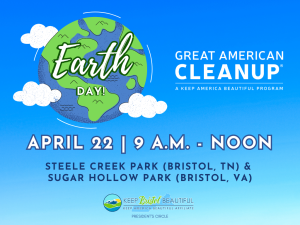 Friends, along with The Nature Center at Steele Creek Park, will host Trash Bash '23, our annual clean-up effort focused on recycling and the conservation of Bristol's largest community park — Saturday, April 22, from 9 a.m. until noon.
The event coincides with the global observance of Earth Day '23 and invites participants to gather at the Steele Creek Park Nature Center to begin clean-up activities at various locations within the park. Nolichucky Outdoor Learning Institute (NOLI) will oversee aquatic cleanup of the lake and adjacent areas via kayaks and canoes. Our gardens volunteers will also be doing some spring cleaning in our gardens.
Trash bags, disposal gloves, and other materials needed for the event will be provided. Light snacks and door prizes will also be available. Trash Bash '23 will be held regardless of weather.
For more information please contact Events Chair, Wes Walker, at wes.walker@me.com, or call the Nature Center at (423) 989-5616.