The newly expanded section of the Nature Center opened in October with five completely new and exciting exhibits and a 1,200 square-foot multipurpose classroom.
A large aquarium display fills the center of the main upstairs gallery. Snappy the Turtle now has his very own 300 gallon tank, and eight additional large tanks house many of the other aquatic species that are found in the Park.
Two large dioramas fill most of the rest of the main gallery. One focuses on the woodland mammals, reptiles, and amphibians that call the Park home, incorporating both live and taxidermy specimens into the exhibit.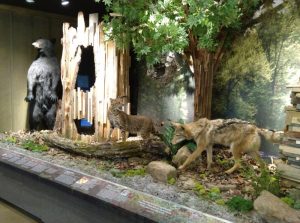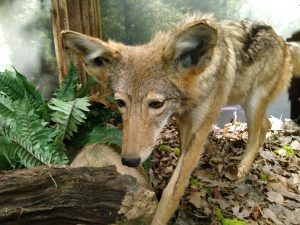 The "Birders Forest" features many of the birds commonly seen in the Park, complete with interactive buttons for hearing their typical songs, calls, and drumming.
A waterfowl exhibit is found gracing the upstairs atrium, with large windows providing spectacular views of Steele Creek Lake and the surrounding knobs.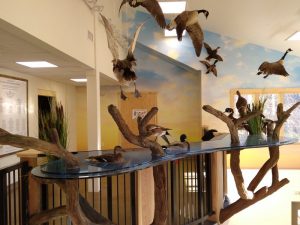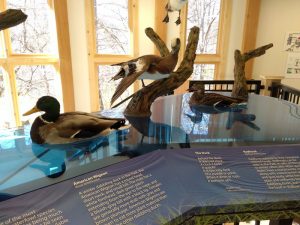 Downstairs, a crawl-through cave exhibit allows children to experience realistic representations of the actual caves that are found in the Park.
The 1,200 square-foot DeFriece-Wilson Room is available for use as a flexible classroom, learning laboratory, general meeting room, or reception venue.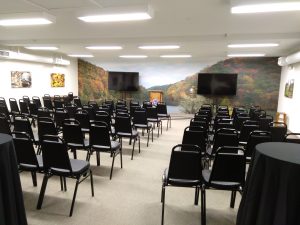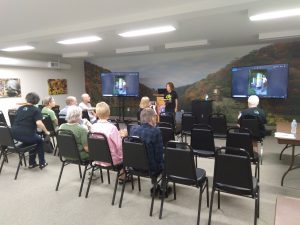 And we're now putting the finishing touches on the Geology Wall and Indigenous Aquatic Life Exhibits funded by the Blue Stocking Club of Bristol!